Les Règles du Blackjack
Le but du Blackjack est d'obtenir 21 en additionnant les valeurs des cartes. Le Blackjack se joue contre la banque, le plus proche par le bas des 21 gagnent les mises, en ne dépassant jamais 21. Les As valent 1 ou 11, les figures valent 10, les autres cartes valent leur propre valeur.

Si vos deux premières cartes sont un As et un 10, vous avez un "blackjack" et vous gagnez 2.5 fois votre mise. Si la valeur totale de vos cartes est plus proche de 21 que celle du banquier, vous gagnez 2 fois votre mise. Si le total de vos cartes dépasse 21, vous êtes en faillite et vous perdez votre mise. Si vous et le Banquier avez le même total (17 et plus), personne ne gagne et vous récupérez votre mise. Le "blackjack" bat un 21.

Les cartes sont distribuées avec un sabot de 6 jeux de cartes. La plupart des Blackjack suivent les règles standards du "Las Vegas Strip" :

Le jeu de cartes est battu après chaque partie.
Le joueur peut ne pas séparer une main séparable.
Le joueur peut doubler sa mise après avoir séparés.
Le Banquier ne vérifie le blackjack qu'au cas ou sa carte ouverte est un As et une assurance a été contracté.
Si le joueur double et la première carte du Banquier vaut 10, si le Banquier obtient un "blackjack", le joueur ne perd que sa mise initiale.

Séparation

Si vos deux premières cartes ont la même valeur, vous pouvez les séparer en deux mains distinctes, ce qui placera automatiquement une seconde mise égale à la mise initiale. Suit alors le tirage des cartes. Vous pouvez tirez autant de cartes que vous voulez sur chaque paquet séparé, mais si vous séparez deux As, vous ne recevrez qu'une carte additionnelle pour chaque As. Si vous séparez deux As et une de vos mains totalise 21, elle est comptée comme 21 et non pas comme "blackjack".

Doubler

Si après avoir reçu vos deux premières cartes vous croyez qu'une autre carte unique vous permettra de battre la main du banquier, vous pouvez "doubler" votre mise. Votre pari est doublé et on vous permet de recevoir encore une carte.

Assurance

L'assurance vous permet de vous protéger quand vous pensez que le banquier peut faire "blackjack". En achetant une assurance, vous placez l'équivalent de la moitié de votre mise initiale. Si le banquier a un blackjack, vous recevez 2 fois votre mise d'assurance. Si le banquier n'a pas de blackjack, vous perdez votre mise d'assurance.


Blackjack Rules
The object of Blackjack is for the total of your cards to be closer to 21 than the dealer's cards, without exceeding 21. In Blackjack, aces count as either 1 or 11, face cards as 10, and number cards at their face value.
If you receive an ace and a ten-value card as your first two cards, you have Blackjack and win 1.5 times your bet (if your bet was $10, you receive $25). If the total value of your cards is closer to 21 than the dealer's, you win your bet amount (if your bet was $10, you receive $20). If the total of your cards is more than 21, you "bust" and lose your bet. If you and the dealer have the same card total (17 and up) neither of you win and your bet is returned to you in a "push". Blackjack beats a score of 21.
Our Blackjack follows the standard "Las Vegas Strip" rules, with the following exceptions:
After each round, used cards are returned to the deck and the deck is shuffled.
The player may not split a split hand.
Only one card is drawn to split aces.
The player may double after splitting.
The dealer will not check for Blackjack in any case.
If the player doubles and the dealer's first card is of value 11 (ACE), and the dealer gets Blackjack, the player loses both his bets. If the dealer's first card is of value 10, and the dealer gets Blackjack, the player gets the Double bet back.
Split
If your first two cards have the same value, you may split them into two separate hands by placing a second bet equal to the original bet. You will then draw additional cards to each hand. You may draw as many cards as you like on each split hand, but if you split two aces, you receive only one additional card for each ace. If you receive an ace and a ten-value card in a split hand, it is considered 21 and not Blackjack.
Double
If, after you are dealt your first two cards, you think that the third card will allow you to beat the dealer's hand, you can double your bet. The bet amount becomes twice the original (with the difference taken out of your balance), and you are dealt one more card.
Insurance
If the dealer shows an Ace in his initial hand, you are given a chance to insure your bet against him having a Blackjack. If you get Insurance, an amount equal to half your original bet is placed separately on the table. If the dealer does have Blackjack, you are paid 2 to 1 on your insurance. This way you do not lose your original bet (because you get the 2x half your original bet, plus the insurance amount back). If the dealer does not have Blackjack, you lose the insurance amount, even if you end up losing.
10 Card Charlie
It is theoretically possible for the player to draw 10 cards without going bust. In this case the player's hand automatically wins, except when the dealer has Blackjack.
Winnings
| | |
| --- | --- |
| | Pays |
| Winning Hand | 1 to 1 |
| Insurance | 2 to 1 |
| Blackjack | 3 to 2 |
---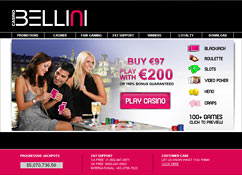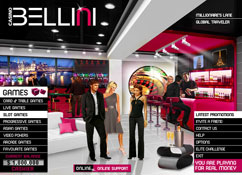 Players of every kind will find happiness at the Bellini thanks to its many regular bonuses. Make a deposit over €97 and you will receive a €103 bonus. Over €97 and you will receive a 100% bonus and this for each first deposit of each month! This welcome bonus is only one of the bonuses offered by the casino! Other free bonuses await you, such as the High Roller which is intended for the bigger players (€1000), the loyalty bonus, the Comp points which you can convert into real money, as well as bonuses you get upon using one of the alternative methods of payment.

Download the free software and register in the fun mode to discover the various casino games.

Do not waste a second: come and experience unique moments on Casino Bellini!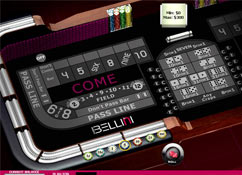 Play Blackjack for Free without download.

2007 - © FantasyLigue